Laser Dentistry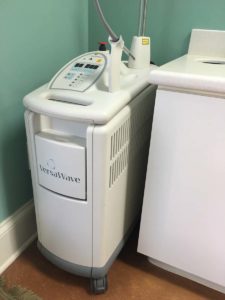 Our laser dentistry services include:
Laser Cavity Detection
Laser Gum Disease Treatment
Laser technology has come to dentistry! With the Diagnodent® laser, finding cavities is easier and more accurate than ever before. And finding the cavities before they do real damage to your teeth means smaller fillings, stronger teeth. This technology has given rise to new thinking in dentistry. It is called minimally invasive dentistry. Better for you, better for your teeth.

And what if we were able to remove the decay and restore your tooth without using a drill? Or a shot?! It is not only possible, we do this every day with our VersaWave® dental laser! You won't believe your ears when you don't hear the drill! And when you leave, there is no numb lip, so you can eat, talk, enjoy life right away. No drooling!

Laser surgery? We always hope surgery is not necessary, but when it is, laser surgery is the most hi-tech, comfortable alternative available for routine cosmetic surgical procedures. Laser energy even stimulates tissue healing. This can mean less down time, greater comfort for you.

The VersaWave happens to also be the perfect treatment to stop cold sores, fever blisters, and mouth ulcers right in their tracks. The pain is zapped right away, and healing is usually complete in three days (instead of ten). Treatment works best when it can be applied within 24 hours of an outbreak, but is still helpful when completed within 48 hours. Best of all, there is NO CHARGE for this service! Just call our office at the first sign one is "popping up", and our friendly staff will get you in to the first no-waiting spot available. Usually in and out in 10 minutes or less!