Dental Sleep Medicine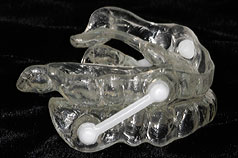 Do you snore? Problems with your CPAP? Dentistry can offer help with these problems by oral appliances designed to keep the airway open. Simple snoring is caused by the airway tissues becoming "floppy and loose" and vibrate when air rushes over them on their way in and out of the lungs. When you fall asleep, muscle tone in the throat goes away and the tissues sag. Our office can fabricate a SnoreGuard (reg. trademark) appliance which holds the airway open while you sleep. In order to be certain you do not have the dangerous complication of sleep apnea, you must first be released by a physician for the snore appliance.
CPAP Mississippi
If you have been diagnosed with sleep apnea, your sleep specialist may recommend a CPAP (Continuous Positive Air Pressure) machine to relieve the apnea. For many patients, however, this device is cumbersome and uncomfortable, making sleep difficult. OAT (Oral Appliance Therapy) can offer an effective alternative to the CPAP. By contrast, the oral appliance is usually quite comfortable to wear, can be worn in any sleeping position, and does not require electricity!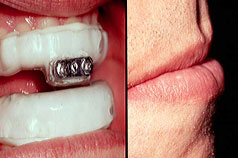 For patients who have severe sleep apnea, the oral appliance may not be as effective as the CPAP. (For one in four severe sleep apnea patients, however, the oral appliance is completely effective.) Even in the cases where the oral appliance does not completely resolve the sleep apnea, it can still be helpful. When combined with the CPAP, an oral appliance can reduce the air pressure necessary to control your apnea by as much as 50%. The reduced pressure means less mask leaks, less strap tension for your mask, and greater overall comfort! Call today for an evaluation!